Bike Repair Club & Open Shop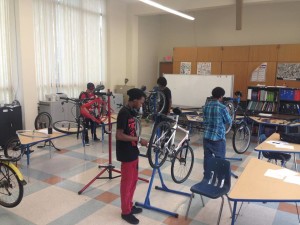 Students will be able to use the open shop time by scheduling it in advance for after school or by coming during one of the monthly scheduled open shop times where skills will also be taught. Students will have the opportunity to learn a range of skills from basic maintenance to performing overhauls.
The shop will also be staffed by our Lead Teacher, Max Clark-Vail, who has 10+ years of experience as a professional bicycle mechanic. We are able to offer the bike shop through our partnering with and receiving donations from The Hub Bike Co-op, Park Tool, and Quality Bike Components.
Field Trips
Colleges:
Augsburg College, Fond du Lac Tribal & Community College, McNally Smith College of Music, Minneapolis Community and Technical College, St. Cloud State University, University of Minnesota – Twin Cities
Movies
Museums & Galleries:
All My Relations Gallery, Minnesota History Center, Science Museum of Minnesota, Walker Art Center
Performing Arts: The Color Purple (Park Square Theatre), Dance Lessons at Cowles Center for Dance and the Performing Arts
Speakers, Presentations & Events:
Ain Dah Yung Center's Tobacco Prevention & Wellness Symposium, American Indians in Science (Science Museum of Minnesota), Mde Maka Ska 2015, WE Day 2014, The Year of the Dakota: Remembering, Honoring, and Truth Telling (Hamline University)
Other Field Trips:
24th Street Urban Farm & Waite House, Animal Humane Society, Feed My Starving Children, Freewheel Bike, Highpoint Center for Printmaking, The Hub Bike Co-op, Minneapolis Central Library, Minneapolis Farmers Market, Minnesota Twins Baseball Games, National College Fair, OutFront Minnesota and Minnesota GSA Network Youth Summit 2015, Sacred Sites Tour, Seward Co-Op
Hope Club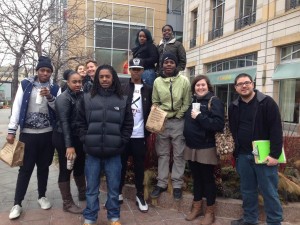 Hope Club is dedicated to students helping students in need with access to food, clothing, and resources at Augsburg Fairview Academy.  Students meet and are able to use creativity and their ideas to explore ways to address the needs they see throughout the school
Video Game Club
Video Game Club at AFA is a club that was started and organized by students. The club continues and is organized and run by student volunteers. Video Game club offers a chance for students to come together to share their favorite video games with each other or a chance to compete against each other in multiplayer formats. In the past the video game club has taken a field trip to a retro style arcade, asked for donations of video game equipment and provided entertainment prior to family fun nights. This student led organization typically meets a couple times a month after school.