Family Nights
Family Nights take place throughout the school year at Augsburg Fairview Academy. Students and staff are encouraged to bring their friends and families. Themes have included Movie Night, Game Night, Ice Cream Social, and a Chili Cook-Off.
Award Ceremony
During the Spring we hold an Award Ceremony for our students. Students receive awards for Academic Achievement, Citizenship, Generosity, Leadership and for being Positive Role Models.
Native American College Fair
Augsburg Fairview Academy is partnering with the Minneapolis & St. Public Schools Indian Education Programs to host the Native American College Fair. The fair is free open to the public; students, families and community members are encouraged attend. More information can be found on our Indian Education Program page.
Open House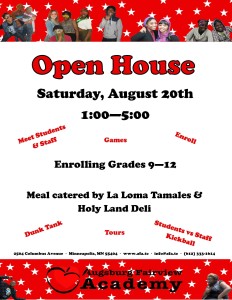 Augsburg Fairview Academy had our Back to School Open House on Saturday, August 20th (1:00 – 5:00). Families and students took tours of the school, meet staff and students and enrolled. We had a dunk tank, games, Students vs Staff kickball game and food catered by La Loma Tamales & Holy Land Deli. Our Spring Open House has not yet been scheduled.
Prom