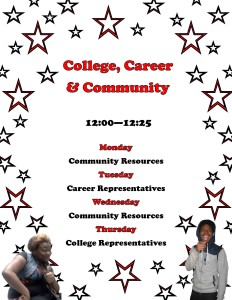 Augsburg Fairview Academy invites young adults from diverse communities to prepare for college, career, and life. We support students facing educational barriers to achieve these through an intense program of rigorous study and real-world connections to health care, education, and other human services.
One of the ways we are working to accomplish this mission is to bring resources into Augsburg Fairview Academy. During the 2016 – 2017 school year we are starting a College, Career & Community series. A table will be available during lunch (12:00 – 12:25) to be used by various representatives.
Mondays and Wednesdays are for Community Resources. Some of the topics we wish to have represented are Homelessness, Health & Nutrition, Mental Health, Chemical Dependency, Culture, and Child Care.
Tuesdays are for Careers, we hope to include Job & Skill Training Programs, Volunteer Programs, Businesses and Career Representatives to showcase a variety of career paths.
Thursdays are for College Representatives, Scholarship Opportunities and other Post-Secondary Education options.
We are seeking to have all of the 2016 – 2017 school year dates scheduled by mid-August, though we will schedule later if there are any dates remaining. We are looking for College, Career and Community Resource representatives for the above stated topics, and others that will fit with the series. Representatives that are interested in participating should contact me at liz.saunby@afa.tc .
Community Resources (Mondays & Wednesdays)
9/12/16, 9/14/16, 9/19/16, 9/21/16, 9/26/16, 9/28/16, 10/3/16, 10/5/16, 10/10/16, 10/12/16, 10/17/16, 10/19/16, 10/24/16, 10/26/16, 10/31/16, 11/2/16, 11/7/16, 11/9/16, 11/14/16, 11/16/16, 11/28/16, 11/30/16, 12/5/16, 12/7/16, 12/12/16, 12/14/16, 1/2/17, 1/4/17, 1/9/17, 1/11/17, 1/18/17, 1/23/17, 1/25/17, 1/30/17, 2/1/17, 2/6/17, 2/8/17, 2/13/17, 2/15/17, 2/22/17, 2/27/17, 3/1/17, 3/6/17, 3/8/17, 3/13/17, 3/15/17, 3/20/17, 3/22/17, 3/27/17, 3/29/17, 4/10/17, 4/12/17, 4/17/17, 4/19/17, 4/24/17, 4/26/17, 5/1/17, 5/3/17, 5/8/17, 5/10/17, 5/15/17, 5/17/17, 5/22/17, 5/24/17, 5/31/17
Career Representatives (Tuesdays)
9/13/16, 9/20/16, 9/27/16, 10/4/16, 10/11/16, 10/18/16, 10/25/16, 11/1/16, 11/8/16, 11/15/16, 11/29/16, 12/6/16, 12/13/16, 1/3/17, 1/10/17, 1/17/17, 1/24/17, 1/31/17, 2/7/17, 2/14/17, 2/21/17, 2/28/17, 3/7/17, 3/14/17, 3/21/17, 3/28/17, 4/11/17, 4/18/17, 4/25/17, 5/2/17, 5/9/17, 5/16/17, 5/23/17, 5/30/17
College Representatives (Thursdays)
9/15/16, 9/22/16, 9/29/16, 10/6/16, 10/13/16, 10/27/16, 11/3/16, 11/10/16, 11/17/16, 12/1/16, 12/8/16, 12/15/16, 1/5/17, 1/12/17, 1/19/17, 1/26/17, 2/2/17, 2/9/17, 2/16/17, 2/23/17, 3/2/17, 3/9/17, 3/16/17, 3/23/17, 3/30/17, 3/10/17, 4/13/17, 4/20/17, 4/27/17, 5/4/17, 5/11/17, 5/18/17, 5/25/17, 6/1/17