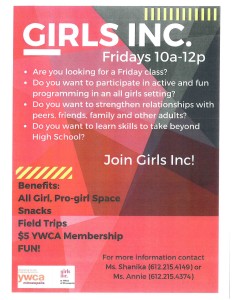 Augsburg Fairview Academy is happy to announce our partnership with Girls Inc. at the YWCA-Minneapolis, their mission is to inspire all girls to be strong, smart and bold.
Girls Inc. will be offering a Friday class for Augsburg Fairview Academy students during the first semester of the 2016 – 2017 school year.
Financial Literacy: economic and financial topics such as attitudes and values about money, career strategies, worker rights, taxes and other paycheck deductions, planning and budgeting, banking, using credit, shopping tips, renting vs. buying, avoiding predatory lenders and other financial traps, and investment options.
Healthy Sexuality: recognizing and moving beyond limiting stereotypes that are limiting for women; using values as a basis for positive decision making; acting assertively; developing relationship skills; avoiding STIs, and understanding the facts on contraception and protection
Resolution and Prevention: develop skills for growth and success that promote social, emotional, and physical well-being and identify the impact and consequences of behaviors, as well as learned alternatives for expressing and managing anger
Those who satisfactorily complete Girls Inc. will be invited to free field trips and obtain a year-long fitness membership to the YWCA-Midtown location
** You must sign up for both quarters to be enrolled in Girls Inc.