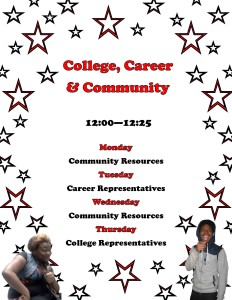 During the 2016 – 2017 school year we are starting a College, Career & Community series. A table will be available during lunch (12:00 – 12:25) to be used by various representatives.
Mondays and Wednesdays are for Community Resources. Some of the topics we wish to have represented are Homelessness, Health & Nutrition, Mental Health, Chemical Dependency, Culture, and Child Care.
Tuesdays are for Careers, we hope to include Job & Skill Training Programs, Volunteer Programs, Businesses and Career Representatives to showcase a variety of career paths.
Thursdays are for College Representatives, Scholarship Opportunities and other Post-Secondary Education options.
We are looking for College, Career and Community Resource representatives for the above stated topics, and others that will fit with the series. Representatives that are interested in participating should contact liz.saunby@afa.tc .
Currently Scheduled
◦ Association for Nonsmokers-Minnesota (9/26, 10/31, 1/30, 3/27, 4/24)
◦ The Atelier Academy of Beauty (9/22)
◦ The Bridge for Youth (9/28, 11/28, 2/1, 4/10, 5/17)
◦ Dunwoody College of Technology (10/6)
◦ Free Arts Minnesota (9/14, 9/19, 12/7, 1/25)
◦ Gustavus Adolphus College (10/13)
◦ Hennepin County Child & Teen Check Up (10/3, 11/30, 1/18, 3/22, 5/15)
◦ Hennepin Technical College (11/3)
◦ HIRED: Green Construction Trades Course (1/3, 2/14, 3/14, 4/11, 5/9, 5/30)
◦ Indigenous People's Task Force: Ikidowin Program (9/27)
◦ Job Corps (11/8, 5/2)
◦ MIGIZI Communications (10/17, 1/9, 2/15, 4/19, 5/8)
◦ Minneapolis Community & Technical College PSEO Program (11/17, 3/9, 4/20, 5/11)
◦ Minnesota Department of Human Services (11/1)
◦ Minnesota Organization on Fetal Alcohol Syndrome (10/12)
◦ Minnesota State Patrol (11/29)
◦ Native American Community Clinic (10/5, 11/14, 1/23, 3/13 & 5/22)
◦ Reach for Resources (10/19, 4/12)
◦ Takoda Institute of Higher Education (10/27, 12/1, 1/19, 3/2, 4/13)
◦ YWCA – Minneapolis (9/12)